PLAYFUL PRESENCE

Sacred Clown One Year Training Course

New Course Dates for 2008 - 2009:
28 Nov - 1Dec 2008 venue: Seekers Trust
20 - 23 Feb 09 venue: Seekers Trust
25 April - 2 May 09 Ibiza week
3 - 5 July 09 venue: Hill End Field Studies Centre, Oxford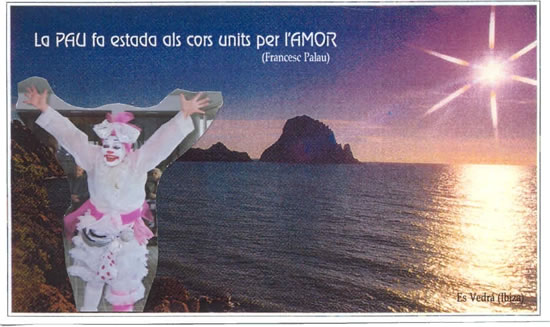 "Peace lives in hearts united by love"
The Sacred Clown's path is
an ancient magical path of spirituality.
This programme is for trainee Sacred Clowns who would like to deepen their practice in "Playful Presence" - a way of being lighter, happier and consistently joyful in the face of pain, darkness and suffering. Walking between the worlds and dancing as he goes, the holy fool is a trickster who always sees the funny side, with a heart full of compassion. From that place he or she can offer great healing to others.
This course is designed to help you learn how to work as a Healing clown in hospitals, homes for the elderly or with learning disabilities or within our communities at local events. There will be encouragement to practise, to witness and experience first hand some of the magic and beauty of working as a Sacred Clown in service. It will also be a time for your own healing - a chance to have sacred clown retreat within the safety of a loving group. A place for support .
One of my gifts is my ability to help you find your OWN clown and we will be working to discover an individual act for everyone on the course - this is not always an easy process but is an adventure in being open to see what emerges from the place of surrender and trust.
The course is suitable for healers, therapists, doctors, nurses, carers, performers of any discipline who want to BE more and DO less on stage, and anyone who genuinely feels called to this sacred path. It is also highly suitable if you just want more fun and authenticity in your own life ! I am interested to work with people who want to make a greater impact with joy and humour and serve their community. The course is limited to 16 participants.
---
What are the Benefits of this Course ?

* Personal Growth & Healing *
* Artistic Development in Sacred Clowning *
* Community Clown Experience *
Personal Growth & Healing :
Gain greater spontaneity, become more mischievous and playful !
Become more at home in your body in the present moment.
Laugh more easily and see the funny side, becoming more light-hearted.
Learn how to transform suffering to joy for yourself.
Become more creative - stretching to all areas of your life.
Be more connected to your inner truth.
Become more compassionate and loving.
Gain greater clarity of vision.
Experience the genuine magic of the Sacred Clown's path and connect more to the unseen world.
Become more grounded and stronger in spiritual warriorship, with an ability to live more fearlessly within the unknown.
Artistic Development in Sacred Clowning:
Increase your experience and confidence in expression through the body and voice, using dance, song, and making music.
Acquire skills of mime and movement.
Learn about timing and appropriateness of action and silence on "stage".
Learn how to co-create within a team in an organic flowing way.
Create clown acts for performance - in pairs and groups.
You can expect to have your own Sacred Clown act by the end of the course.
Develop greater strength to hold the ground and magic space of the clown, no matter what we meet from the audience - i.e. learning not to be swayed.
Learn more about vulnerability and openness.
Increase your sensitivity to yourself and others.
Learn how to create audience interaction through authentic connection.

Community Clown Experience:
We will be taking a performance into a residential home for the elderly or into the Hospital for long term residents (elderly patients), as a part of the course week in Ibiza. Through this, we will inspire the creation of additional community clown projects at home, with ongoing encouragement and support from Rachel for the duration of the course. This application will bring us closer to the work of using clowning as healing and we will learn about this in the workshop context as well.
At the end of the year, everyone will have the chance to present their own Sacred Clown act. You can also expect to have laughed, cried and had more fun than in years !
---
What is it like working with me ?
I work with wild energy and also with great gentleness so we stretch our
comfort zones in playing with these extremes. I work to hold a safe sacred space where it is Ok to be who you are in the moment. I work best with freedom and spontaneity and am guided by my own sacred clown. I hold boundaries to keep us grounded and safe and then I encourage everyone to fly within those. I understand how important it can be to have an act at the end of a training and it is enormously satisfying when that comes, yet I know it is the quality of presence which counts and the willingness to surrender completely to the unknown in the moment. From this place comes magic. I encourage great relationship with the audience so that there is no sense of separation between the stage and the audience - we practise the interconnection on a spiritual level and also on a very practical level with our audience, especially where we are working with the elderly and infirm.
I work with integrity and clarity, and am straight, so we don't get caught in emotional baggage and can play more with the light and the dark - to create a harmony between them, seeing everything as a part of the sacred circle. We use a lot of movement within my training, only going as far as is comfortable. I work with respect for our limitations, whilst encouraging risks.
To hear feedback , please read what people have said about working with clownwithin.
---
COURSE STRUCTURE:
The course runs over nine months, and is divided into four sessions:
Session 1: 28 November - 1 December 2008
Session 2: 20 - 23 February 2009
Session 3: 25 April - 2 May 2009
Session 4: 3 - 5 July 2009
25 April - 2 May 09 Ibiza week
3 - 5 July 09 venue: Hill End Field Studies Centre, Oxford
Session 1. 28 November - 1 December 2008
Areas to be covered:
Getting to know each other !
Body awareness and breath work, trust and vulnerability, connecting to our truth individually and with each other.
Mime, Dance and Song, Movement and Play.
Reconnection to the red nose.
Clowns as Healers - preparation for using clowning as healing through pair and group work.
Artistic expression via open empty stage work.
Group clown performance pieces.
Healing and sharing circles with meditation and practices for opening the heart of compassion.
Session 2. 20 - 23 February 2009
In between sessions, we will encourage development of on-going practices to centre ourselves more strongly for being in the present moment - whether that be Yoga, Meditation, writing or whatever works individually.
Development of sensitivity - exploring the clown's silence in nature.
Essential ground - connecting to our essence and listening deeply to ourselves and others through play, movement and meditation.
Development of group clown acts.
Sharing our clown development and exploring what is required for healing work in the community ( whether these be special needs, the elderly or in hospital).
Opportunity to try out individual acts.
Beginning to experiment with costume creation for our unique clown.
Session 3. 25 April - 2 May 2009
In between sessions, we will be exploring and developing costume as well as the development of acts.
Discovery of clown's face and make-up.
Creating clown's costume for performance.
Learning about courage and practices to help with stage fright or nerves.
Creation of group acts for performance at end of week in the Residential Home for the Elderly.
5 days intensive clowning with a day to arrive and a day to rest at the end.
Opportunity each day to spend quiet reflective / rejuvenating time in nature - walks in the forest, swimming in the sea. A wonderful place to discover more of your sacred clown.
There will be more information about the Ibiza week nearer the time.
Session 4. 3 - 5 July 2009
In between this last session and the previous one in Ibiza, there will have been 3 months in which to start developing local community contacts for clown projects if this is appropriate for your wishes and the development of your clown. This is not mandatory.
We will bring these to our sharing circles.
Sharing our clown's journey so far.
Spiritual Warriorship - facing and embracing the unknown through empty stage and working playfully in the present moment with whatever arises.
Clowns as Medicine Healers - more training in how to transform sadness to joy.
Completion of individual acts and sharing in final celebration, which will be organised by us as a group in a way that feels appropriate for the journey we will have taken together.
TOOLS WE SHALL USE:
Music, instruments, costume pieces - colourful unusual pieces (too big, too small, too crazy - the sillier the better !) face paints and brushes, (information will be given as to what to bring prior to the Ibiza week), comfortable clothes for moving in, open minds, loving hearts, your own red nose ! …….
A letter will be sent at the start of the course confirming exactly what to bring and all the practical details.
Dates & Venue:
28 November - 1December 2008 venue: Seekers Trust
20 - 23 February 2009 venue: Seekers Trust
25 April - 2 May 09 Ibiza week
3 - 5 July 09 venue: Hill End Field Studies Centre, Oxford
The Seekers Trust is a Centre for Prayer and Healing, set in 39 acres of parkland amid the beautiful Kentish countryside. Our group there is non-residential, - we are using the Conference room for our work, however there are self-catering flats (single and double) on site available for rent separately at very reasonable rates, and if you book early you should be guaranteed a place there. It is a wonderful setting to receive peace and inspiration. To book accommodation, contact the Seekers Trust directly, telephone : 01732 843589, or email : info@theseekerstrust.org.uk

Early booking is recommended as it will be a very healing experience to stay there and is convenient to be on site. The Centre accommodates up to 12, so it is first come first served in terms of reservations. There are also local B&B options if the Seekers Trust is full - details upon request. For this you would need private transport.
Hill End Farm is an organic field studies centre with wonderful fine energy suitable for our work. It is a place where we can also create ceremony on the land. Accommodation is available on site and further information will be given at the start of the course.
Whilst not officially "residential" there may be the opportunity to share lunches and evening meals if organised and paid for between us at each session.
In Ibiza, we will be staying on the West Coast of the island, near the beautiful turquoise sea, stunning coastline and beaches of Cala Conta and Cala Bassa, and our work is likely to be in the International Clown School at San Jose. Ibiza is a magical island, with strong magnetic healing energy. The week includes full board.
PRICE STRUCTURE:
Course price £1495
Deposit £495
£95 early bird discount if paid in full by 15th October 2008. Total then would be £1400.
Book by 15th October 2008.
To Book Now, click here for an application form and email clownwithin@hotmail.com to reserve a place.

Please note that it is essential you have worked with Rachel before. If you have not taken an Introduction course, there is an opportunity before the one year training begins. There will be an Introduction weekend 11th & 12th October 2008, also at the Seekers Trust. Price £130. To book a place, email: clownwithin@hotmail.com

I look forward to working with you !
Rachel Caine